A Special December Auction....2016
In late November, 2016, a friend alerted me to an interesting promotional car auction in early December. There were to be over 200 promo cars all new in their original boxes. Well, for certain, someone who has been into promos since model year 1952, this would be an interesting story for the hobby. This auction was within a day's driving distance of my home.Auctions used to be a big part of my life. I'm seventy now and don't hear well. Would I be able to fully function as I used to do? Well, I still roller skate as often as I can and I hiked two mountains (one 9miles and one 7 miles) this year. Yes, I will give it a try.
Not much information was available at first and then little by little as the information came through, the auction appeared to become more and more interesting. I decided to go preview the cars one day in advance as two-hundred cars take quite a bit of time to inventory.
I decided to take my old 1993 trusty Dodge Dakota and it did a good job for me all the way through. I did put new tires on it. It was time for that as the old tires were more dry-rotted than worn. An ounce of prevention goes a long way. The scenery in the boonies was beautiful and life in northwest Tennessee is still reminiscent of times gone by when agriculture was king and the nearby town was a bustling center of activity. I knew in advance that there was no cell service at the auction site.
When I arrived on location, the auctioneers had found more cars, bringing the total up to 229 cars.As a few people wandered in and out, a few locals had some ideas about the origins of the collection. The collection was in the care of a lady who tended to hoard things. The garage was said to have been stacked wall to wall with stuff of all kinds, not just promos.One idea was that this old maid school teacher had a brother...or a father........who was a comptroller for a major US corporation. Somehow she wound up with these cars and then hoarded them.
The cars had an interesting history that few collections would otherwise have had. Some of these cars and likely all of them were purchased at the AMT corporate office. This was verified by two types of receipts found with some of the cars.Most of these cars sold new for less than one dollar including sales taxes.
Some of the receipts indicated a sale to employees of AMT. Some were receipts indicating a sale presumably not to an employee who would have received a discount. The receipts proved to be a factor in bidding on auction day. Incidentally, there were a handful of JoHan promos for which there was no explanation.
The original boxes presented an interesting issue for which I have further speculation. There were three
There were promos and frictions. Those are the common terms for them. I like to be a bit more definitive with those definitions. A promo is in my terminology a model car produced specifically for the automobile dealers in accurate colors and with extra attention to trim. A promo is more often than not a coaster, without mechanics for noise and/or action. A friction usually is a retail trade "promo" without the little extras offered on the dealer promo.
Original boxes add value to promos. In this auction were three types of boxes: plain white promo boxes properly stamped, regular retail trade boxes properly stamped, and various promo and retail boxes with handwritten descriptions rather than stamps. The handwritten boxes were not always fully accurate. The speculation is as follows. The AMT office-sales store was an avenue for selling products that were year-end cars and cars that might not be sold in mass markets. An example of a non-mass-market car would be a "gold or chrome" plated model as used in auto dealer shadow boxes and/or trophies. I bought one such car—a 62Ford Galaxie 500 coupe which was gold plated and never distributed.
One always hopes that no one shows up for "your stuff." That is a dream and rarely happens. All it takes is two people with enough money to make the bids go up. There were about a dozen bidders with two really serious ones and the less serious (or less moneyed) ones in tow.
Several nice cars were purchased which are showing up on this website. The 56 Continental and the 57 Buick are about the best that you can find. The 58 Edsels are up there too. All the cars were very nice. Autohobby scored ten for the business and five for a friend. Fewer cars came home with me than anticipated but it was a good experience and I was able to meet some collectors/dealers anew and some known to me years ago.
The cars purchased at this auction and offered for sale here will be referenced to this page.
An Incidental Observation: 1958 Edsel and 1964 Thunderbird (photo below)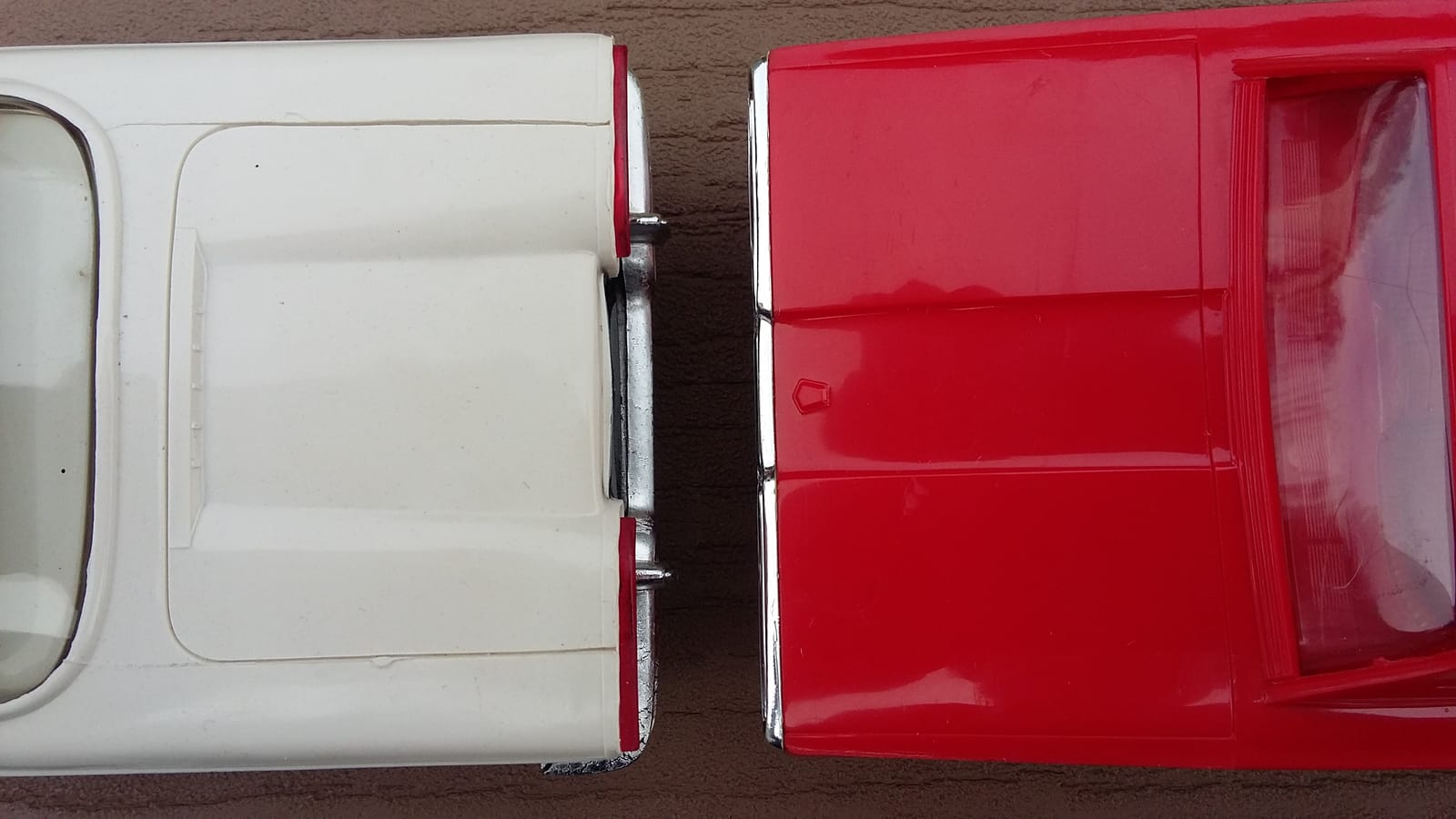 A1958 Edsel and a 1964 Thunderbird were also purchased at this auction and happened to be placed next to one another in a photo shoot. Hmm. There are some similarities here. There are three styling themes reflected in both cars. Both cars had some stylists who likely developed the Edsel and the Thunderbird. You can learn quite a bit from studying your promos and putting them side by side for observation. See if you can see the three themes. 1..Sunken middle section on the trunk. 2..Wide tail lights about the same length as the sculpturing above but with different tail light shapes. 3..Grill work like an air intake or exhaust in the deck design area. Perhaps, you can identify a fourth. So far, I have found only three.